Trusting your young child to another caregiver — whether at a church, local child development center, or someone's home — is an overwhelming decision.
Because early experiences lay such a crucial foundation for a child's life, evidence shows that finding a quality child center is a key component of school readiness. We want to help make that decision easier for you by providing you with:
An understanding of a "quality" center
A childcare checklist
The right questions to ask
A link to find local childcare centers
Ways to find affordable local childcare for low-income parent
---
These are 5 key questions many parents have about finding childcare:
1. What is a "high-quality" childcare center?
"Quality" means that every child is well taken care of in a safe and nurturing environment, but it also means that every child has the potential to start school ready. Quality child care centers provide foundations in cognitive areas, gross motor skills, and social development.
2. What practical things do I need to consider when finding a local childcare center?
This checklist may cover some areas you hadn't thought of yet.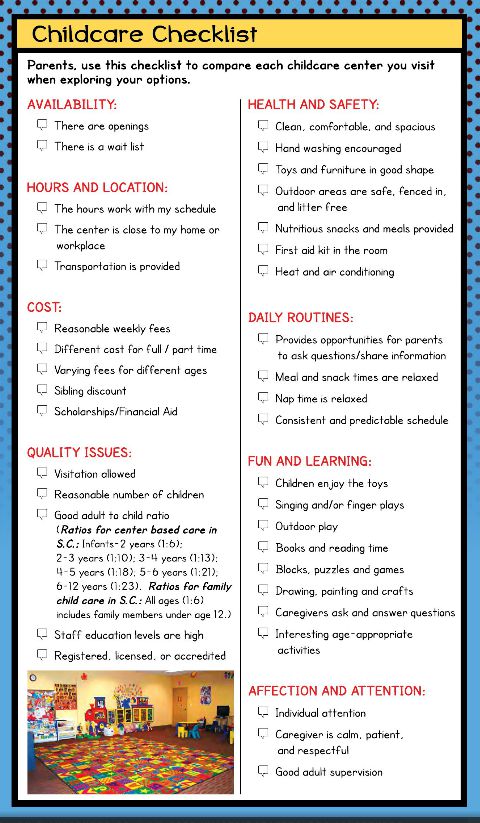 Checklist provided by our partners at Greenville County First Steps.
3. When visiting a childcare center, what should I keep in mind and what specific questions should I ask?

Is the provider licensed?
If they are, they are required to display this license.
Are the staff certified in First Aid/CPR?
This is not necessarily a requirement, but is the best way to ensure children are safe.
Does the provider have any licensing violations?
SC Child Care lists violations, and the resolution, for all licensed providers on their website. An individual violation may not be a deal breaker. (Staff sometimes have bad days.) The main thing to look for is what type of violation (was it safety related, or paperwork related), and was the violation resolved?
What are the staff : child ratios?
Typically, ratios range in infant rooms from 1 adult to 6 children to 1 adult to 4 children (depending on what other certifications the center meets). Ratios for toddlers and preschools are higher. You can check ratio requirements for your age group at SC Child Care.
Is the environment welcoming, safe, and nurturing?
We encourage families to "test drive" centers. Visit during the day, when children are there. Do they staff seem engaged? Are the children happy?
What sort of curriculum, accreditation, and national models do they follow?
While a few centers are NAEYC accredited (the gold star of childcare quality), others follow faith-based curriculum, or build their program around national or international standards. Find the program that suits your needs.
4. How can I find childcare providers in my area?
SC Child Care provides a link to search for child care providers using your zip code.
5. My income prevents me from finding affordable child care. What options are available?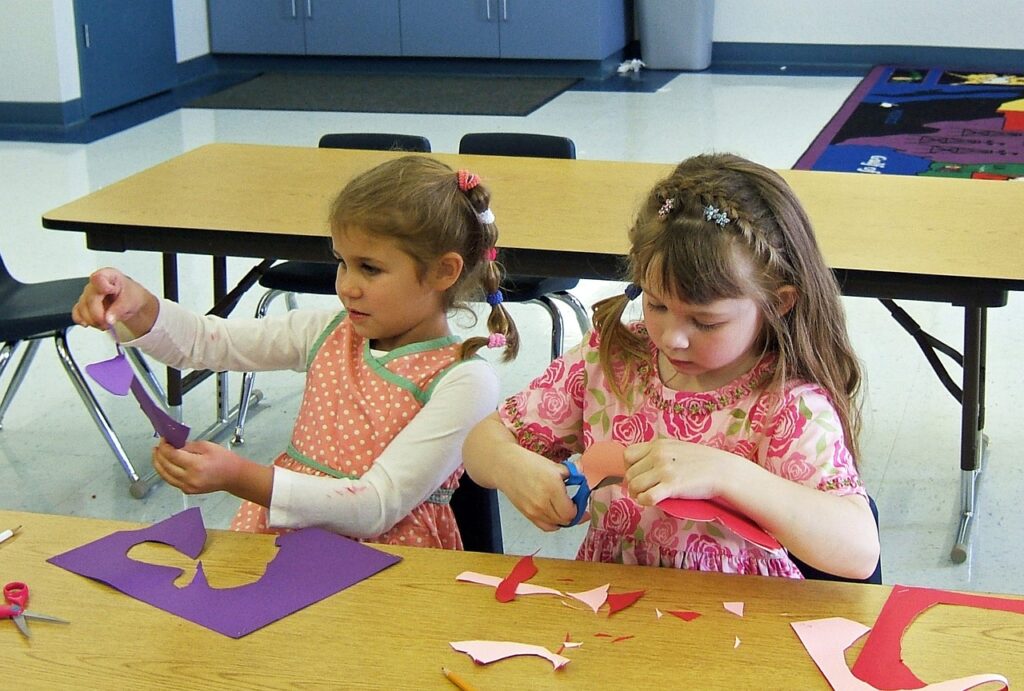 1. One option to consider is SHARE Head Start.
SHARE Head Start and Early Head Start are committed to providing quality comprehensive early childhood and family development services at no charge to preschool children, infants and toddlers, their families, and pregnant women.
2. Another option is an ABC Voucher through SC Child Care. Visit the link to learn about ABC vouchers and to see if you might qualify.
3. If you apply for an ABC Voucher and are denied, Pickens County First Steps provides a limited number of Childcare Tuition Scholarships, generously made possible through United Way of Pickens County.
Click here to view or download the 2017-2018 Childcare Tuition Assistance Application. You may also contact our scholarship assistance program: thill at scfirststeps dot org, or call 864-654-3000 if you have additional questions.
4. Contact the SC Childcare Resource and Referral Network. They help parents choose care that is based on the family's individual needs. They can also review a family's financial assistance options and potential eligibility for child care programs.
---
Additional Resources:
*SC Child Care is devoted to early care and education in the state of SC. They have a comprehensive and user-friendly website.
*SC Childcare Resource & Referral Network provides guidance by phone, in person, and in other ways, such as the internet, that are tailored to each individual family.
*Our partners at Greenville County First Steps have provided this link that allows you to tour different areas of a typical, high quality child development center.
If there are questions we haven't answered, let us know in the comments, by e-mail, or on social media.
/////
Follow us on Facebook and Twitter and Pinterest for great resources on parenting, child care, preschool, literacy, nurturing the young child, and upcoming local events!
Special thanks to our friends at Greenville County First Steps for the checklist, specific questions, and virtual tour!
---
This post is a revised and edited version of a post from Dec, 2016. Here's the link to that original post if you're interested in seeing the comments. 
Free images provided by Pixabay.
By Marian Vischer, Communications Director